HEK's newest offering Savage Times is his best yet, and cause to celebrate all he's done so far.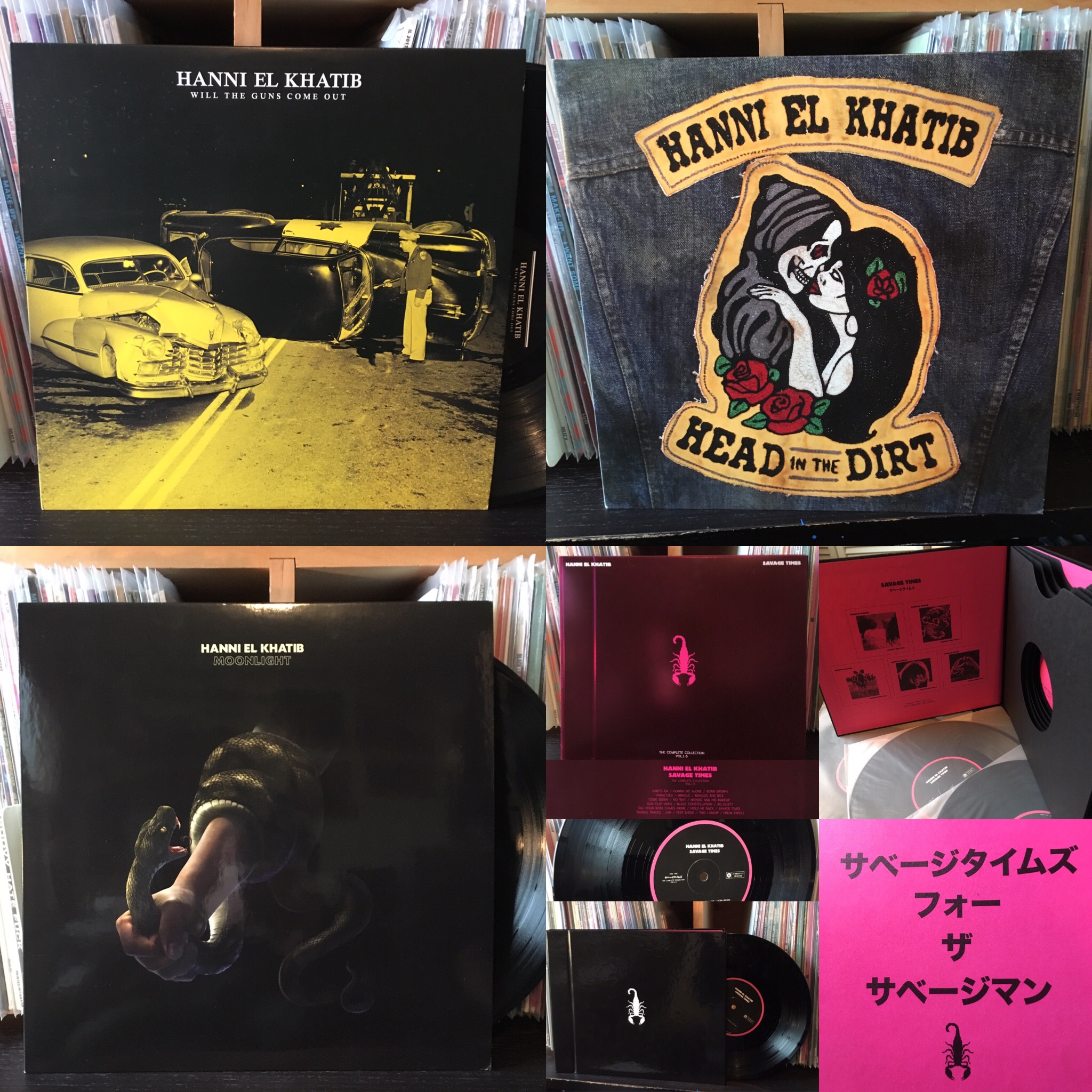 if you aren't familiar with Hanni El Khatib yet, it's time for us to remedy that! i was lucky enough to stumble onto his music in 2011 or 2012 when he debuted on Innovative Leisure Records with the instant classic Will The Guns Come Out. Innovative Leisure was started at least in part by a guy from Stones Throw who was their sales rep when i worked for UGHH.com, before he broke off to start IL, so we were hipped to the label early. i think i first got into Nick Waterhouse heavy & then quickly became obsessed with HEK's music. WTGCO, his 2011 debut LP on was a rough crystal ball for where his music would lead us; he came with a punky but funky & soulful mix of old school rock'n'roll & rhythm'n'blues which had that timeless, throwback type appeal while feeling of-now at the same time, not on some cheesy contrived retro kick. he made immediate noise with his bangin' cover of the Funkadelic jam "I've Got a Thing, You Got a Thing, Everybody's Got a Thing" from their 1970 debut (shortened to "I Got a Thing"). however among all the great tracks of a pretty wide range offered, "Dead Wrong" probably hit me the hardest:
while he self-produced the debut LP, for 2013's sophomore follow-up Head In The Dirt HEK enlisted Dan Auerbach of The Black Keys on production plus co-writing & playing on the album. it was another super solid release, but perhaps as expected took on much of Auerbach's & TBK's sound through the collaboration; it was a cleaner, more streamlined & concise stomper of an album that was totally great but lacked perhaps only in how Auerbach's influence might've overpowered some of El Khatib's wider creative range exhibited previously on WTGCO. that being said it's still top shelf in my book, 'Nobody Move' is probably my favorite on there. while the debut had better individual stand-alone tracks, as an album it might be said HITD flowed better front to back. then in 2015 he returned with his third full-length, the self-produced Moonlight, which successfully took his music to the next level, integrating what he learned working with Auerbach while harnessing and amplifying the qualities unique to his style & personality which made the debut so memorable. Moonlight is probably the most low-key or least punky of the first 3 records but perhaps the best taken as an album, reaching new heights with hard-hitting songs of a higher quality like "Two Brothers" & "Mexico" ending each side. however at this point the debut WTGCO still boasted my favorite HEK individual tracks that felt the most 'him', but all 3 taken together easily made him one of the best contemporary rockers out there in my book. peep the slideshow below with pics from my personal collecsch of the 3 aforementioned LPs plus the "Innov8" 8" record (!) he did covering The Cramps plus the 7" picture disc covering D'Angelo - both obviously bangin! also keep in mind when viewing that not only is he a genius singer/songwriter/musician, he's also co-owner of Innovative Leisure & the Art Director, so that's all him...
he was already at the top of his class, but then Savage Times dropped... and Hanni El Khatib reached a whole 'nother echelon. it's immediately one of this year's best albums, but that's selling it short. check it out:
Savage Times Vol. 1-5 can be seen as either a compilation of 5 movements or just taken as an album all combined. regardless, it's the best music Hanni El Khatib has created yet & if you are a true lover of music, odds are you'll deeply appreciate it. he released it incrementally in 3 song editions beginning in April 2016, with this beautiful triple 10" vinyl box set which includes all 5 editions, plus 4 bonus tracks (which are totally quality, not at all throwaways) packaged in this hardbound book case with download code included, peep the slideshow below - priced at $40, it's beyond worth-it! i had pictured the set being released as 7"s, glad they chose the 10" format, it's perfect for this release, you can rock it as 3 mini albums or all in one, more epic session.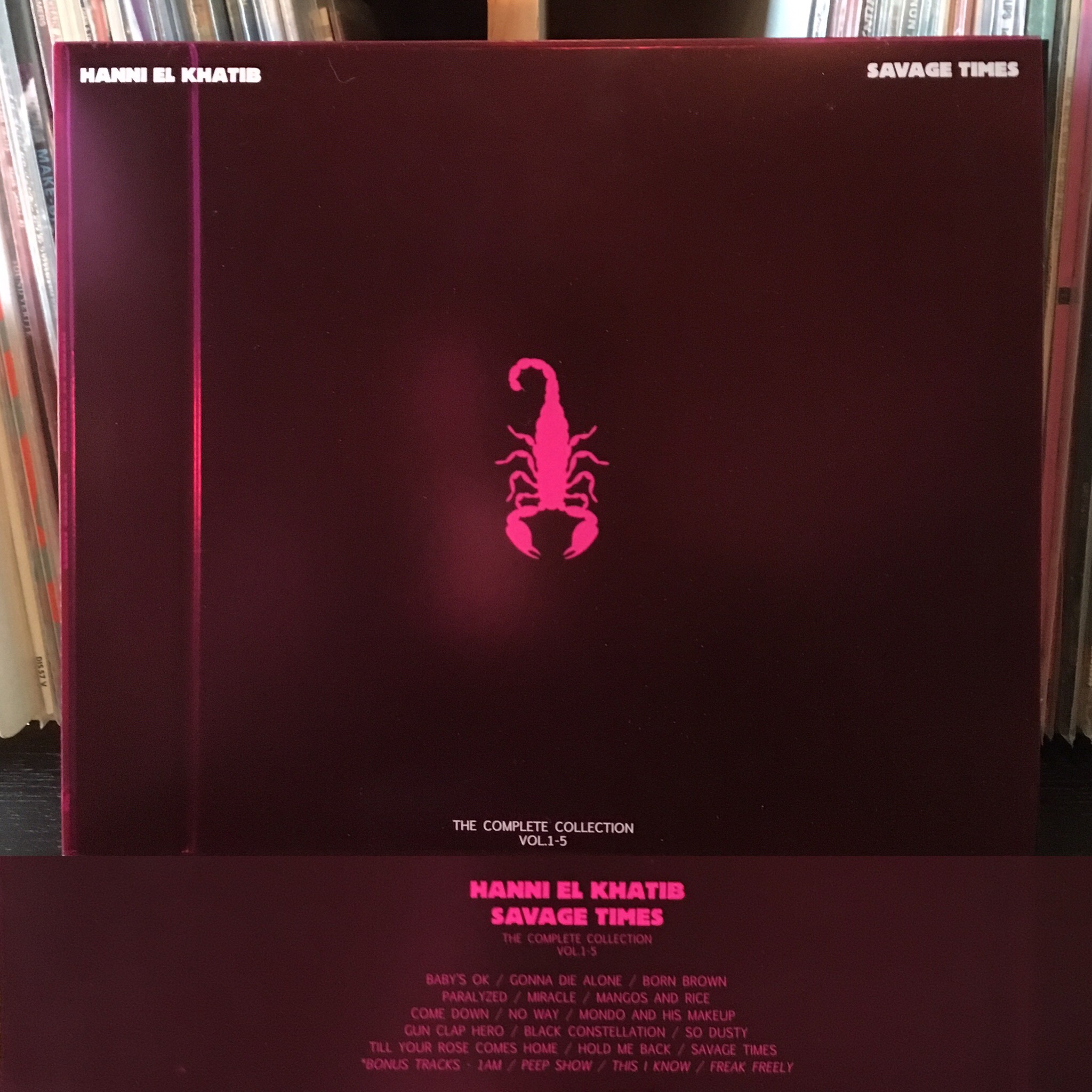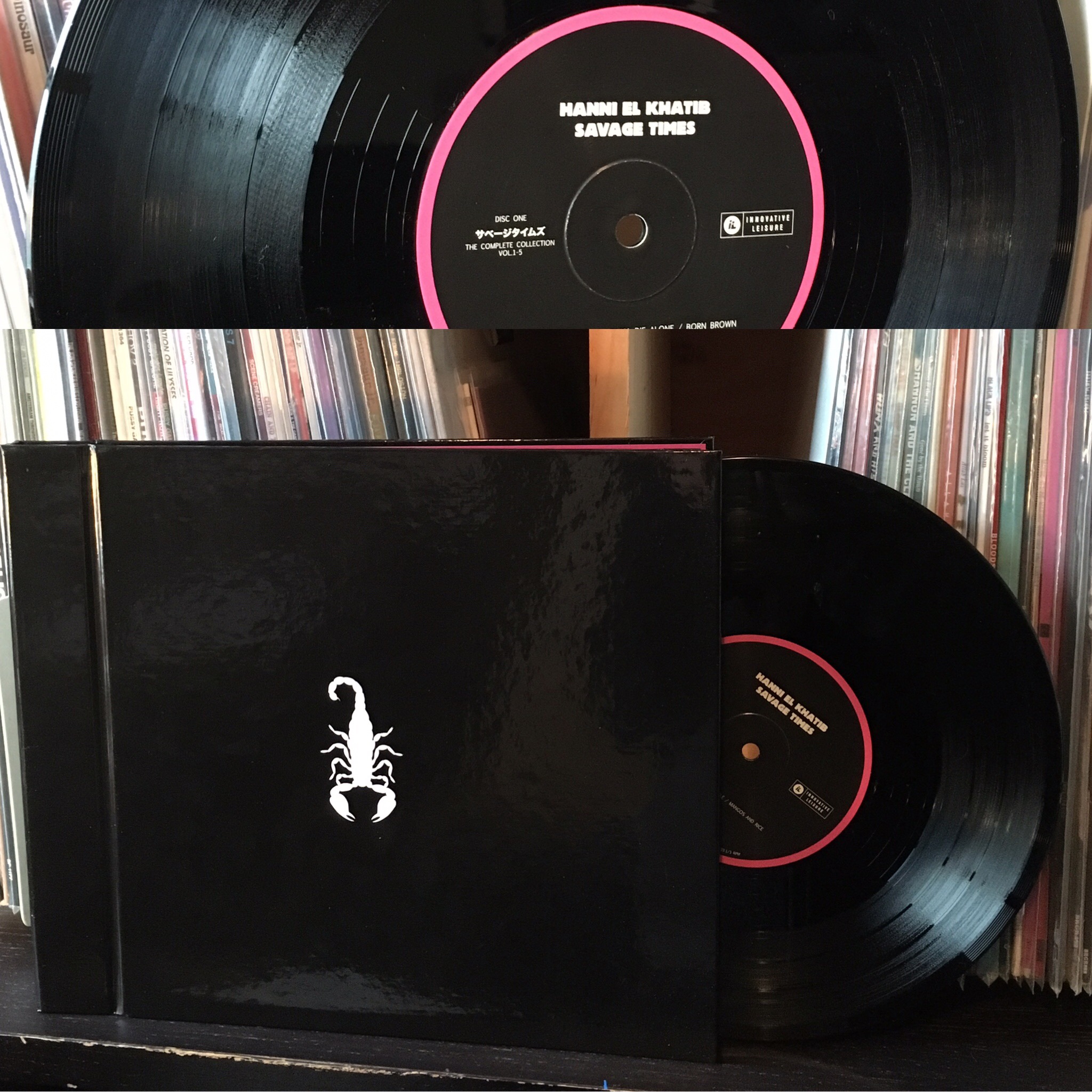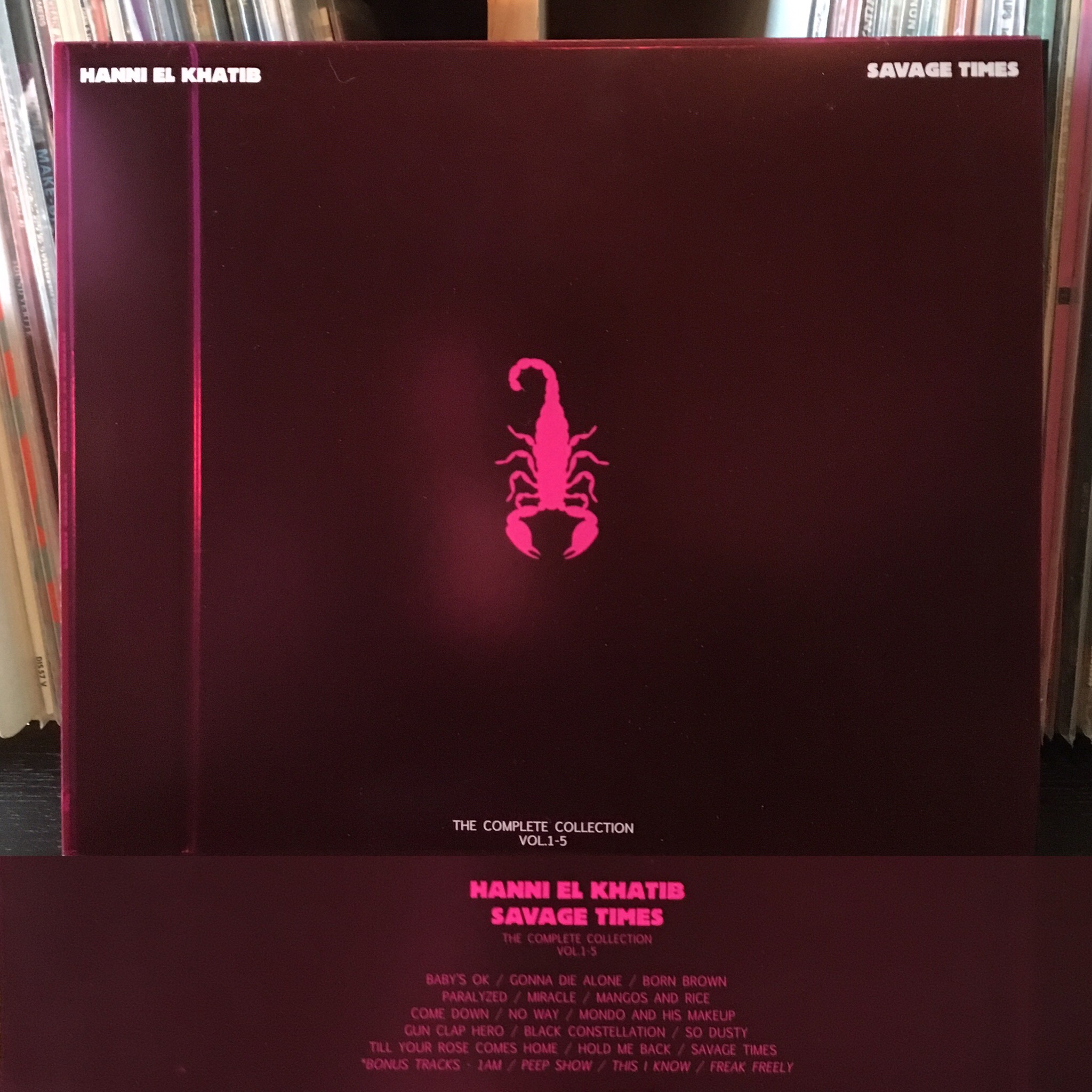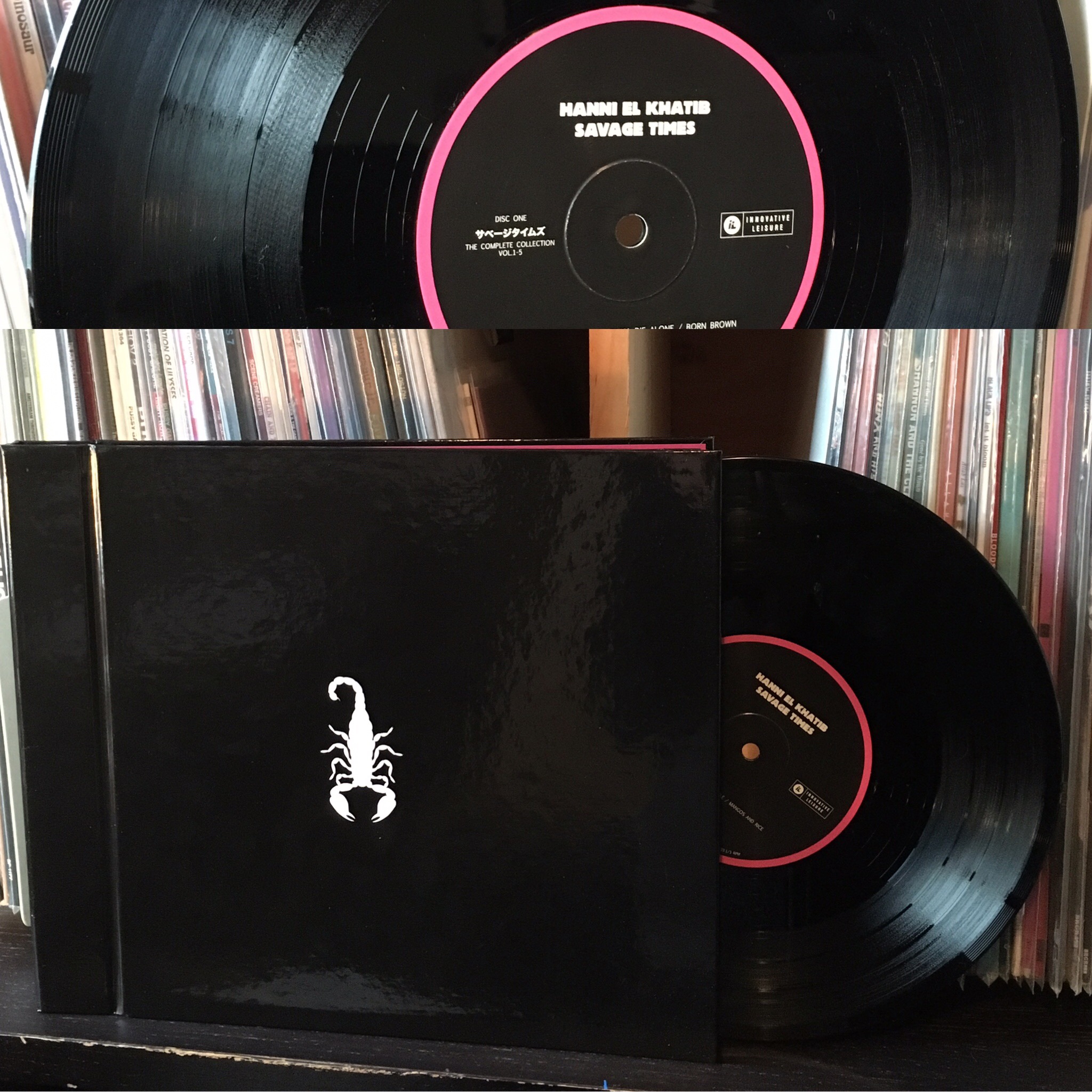 but sexy physical edition aside, Savage Times is an absolutely vital album to add to your musical collection, regardless of how you experience it. since they were all released in these 5, 3-song spurts, there's a healthy variation between each trio of tracks; in fact there's quite a wide range stylistically, yet it all fits into a greater picture or aesthetic cohesively. HEK is in top form, experimenting with new instruments and sounds, weaving rock'n'roll, punk, soul, funk, R&B, the blues, garage rock, disco-y type breaks, even hip hop vibes (it was rumored a while back he was doing a whole album with Freddie Gibbs - fingers crossed on that one) plus much more and he somehow does it completely naturally, with everything flowing together perfectly.
Hanni El Khatib has reached master level with this release in my eyes (or more importantly, ears) because he inhabits such a wide range stylistically but also with his songwriting skills; he can come with these deviously dark & deep lyrics that don't drag the song down because the music is hella soulful - take for example "Die Alone" where he sweetly sings "i'm gonna die alone, really alone, i'm gonna die alone" over & over a tambourine-janglin' upbeat rocker of a track that doesn't feel depressing at all. he comes harder than ever before on the following track, "Born Brown" one of his most powerful songs yet in which he expresses rage, frustration & pride in the passionately screamed lyrics reflecting on his experience as a first generation American in these fuct, well yep actually Savage Times. a son of Palestinian & Filipino immigrants, born & raised in California, his perspective is definitely unique. then with the next cut he seamlessly transitions into a 70s style funk soul rocker perfect for the dance floor, but that delicious duality returns with the lyrics - he repeatedly croons "i'm paralyzed, immobilized" over a pleasant bed of "oo-wah-oos" from the background singers - hella feelgood while being kinda emo as fuck - i love it. no matter what he does, it feels genuine & heartfelt, perhaps best heard in the next track, "Miracle", a stripped down blues solo with just vocals & guitar, a man looking back in disbelief, hesitantly accepting his redemption: "ooh it's a miracle that i came out, came out alive/ oh i should've been put down in my place, but i survived." plus opening cut "Baby's OK" is one of the most badass intro tracks i've heard in a grip - Khatib in pure Stoogey glory screaming "i was high as fuck i was high as fuck i was high as fuck... but hear me out. didn't know who i was, didn't know who i was, didn't know who i was, i was acting out. she couldn't look me in the eyes she couldn't look me in the eyes... i understood. i'm a faliure, i'm a lie i'ma failure but i try". i fucking love the sentiment, but dear Hanni El Khatib, if you ever happen to see this: if this failing, the rest of us are fuct! this is one of the year's greatest successes actually, and i thank you deeply for the inspiration. freak freely if you really a freak.