in the spring of 2016 i was blessed to be involved in the Forgotten Forever project for the uber-talented musical force Ceschi Ramos, the one man band! it channeled some of the best art i've ever done so i've been looking forward to having it posted all together like this! if yr not familiar with Ceschi, he's one of the best performers you'll ever see, immediately winning over new fans with each show he plays, which is what cemented my love for his music some years back when i was working for UndergroundHipHop.com, after being put onto his tunes by the homies k-the-i??? & Shortrock. i think the first time we met was at the UGHH store, for The Outsiders Tour with (if memory serves correct) Sole, Awol One, Dark Time Sunshine, Factor & Sixo? who's to say... it all melds together, i should've kept a better record of my times there!
Ceschi's style is truly unique, mixing hip hop, punk, folk, electronic, metal and more into his own potent blend seasoned with memorable, hard hitting & poetic lyricism over skilled instrumentation delivered with passionate performances intended to make the audience feel something real. he's put out a grip of classic records on his own label, Fake Four Inc., but had a bunch of great tracks that didn't fit onto any albums that he however didn't want to be forgotten or unheard, so Forgotten Forever was born. French indie label Cooler Than Cucumbers pressed but 100 copies of this compilation on vinyl & then Ceschi had artists each make a series of 10, 1-of-a-kind record sleeves to house them in, using paint, collage, etc. they were then sold only by auction, the first half in Europe and the second on eBay here in the states. i had the extreme honor of being able to do ten of these covers, which were auctioned off starting in late August of 2016. here are the 10 records, in a chronological slideshow. more on the process used after the drop:
the process i used for these covers involved old, but in-good-condition record sleeves, white spray paint, black ink, painter's tape, razor blades & spray gloss. i scored the old vinyl from local thrift stores & record spots plus my own stash of trash wax & my homie Esh's old cache of LPs for sampling. first i applied the tape to utilize sections of the original albums' cover art i wanted to build the piece around; after that was taped off, i then spray painted the rest white with the more expensive glossy stuff (i experimented with various brands and colors before finding the right fit for the ink - i wanted to do the second half of the series on silver backgrounds but it didn't work out). after that was dry, i went in with my Acee's Witches Brew black ink (i am not sponsored in any way but oh haaaii Acee's waaas good?!). Witches Brew is one of my favorite materials to experiment with - hand-made kettle-cooked black ink with tons of character that is best applied with the included dauber which is an unbeatable instrument for expressive strokes & abstract expressionist type art especially. i've used this ink for many years, but have turned to it much especially in the past few, as a reaction against all the multi-colored work i do - balance is key!
after applying an abstract pattern with the Witches Brew ink dauber & letting it dry, i then peeled off the painter's tape with an xacto blade, revealing the pieces of the original cover art. the unexpected/surprise element of unveiling in that step was one of the most enjoyable parts of the process, not knowing how it all would look until that moment. then i integrated the original cover art sections back into the composition with a little more Witches Brew added around the edges. later the covers were all spray-sealed with a UV protective gloss finish. i had never done a project quite like this, so am quite obviously still excited about it all this time later! here are pictures documenting much of the creative process: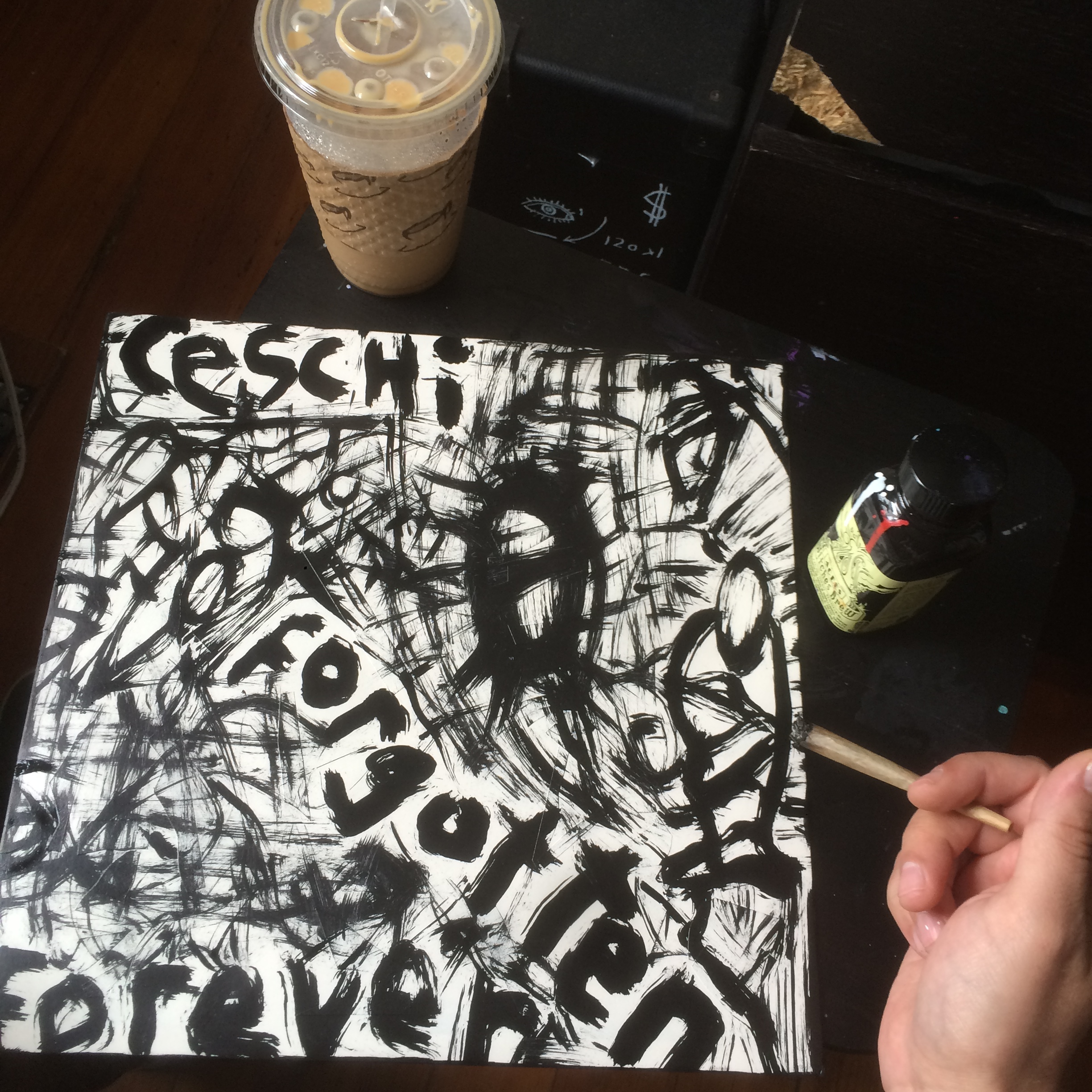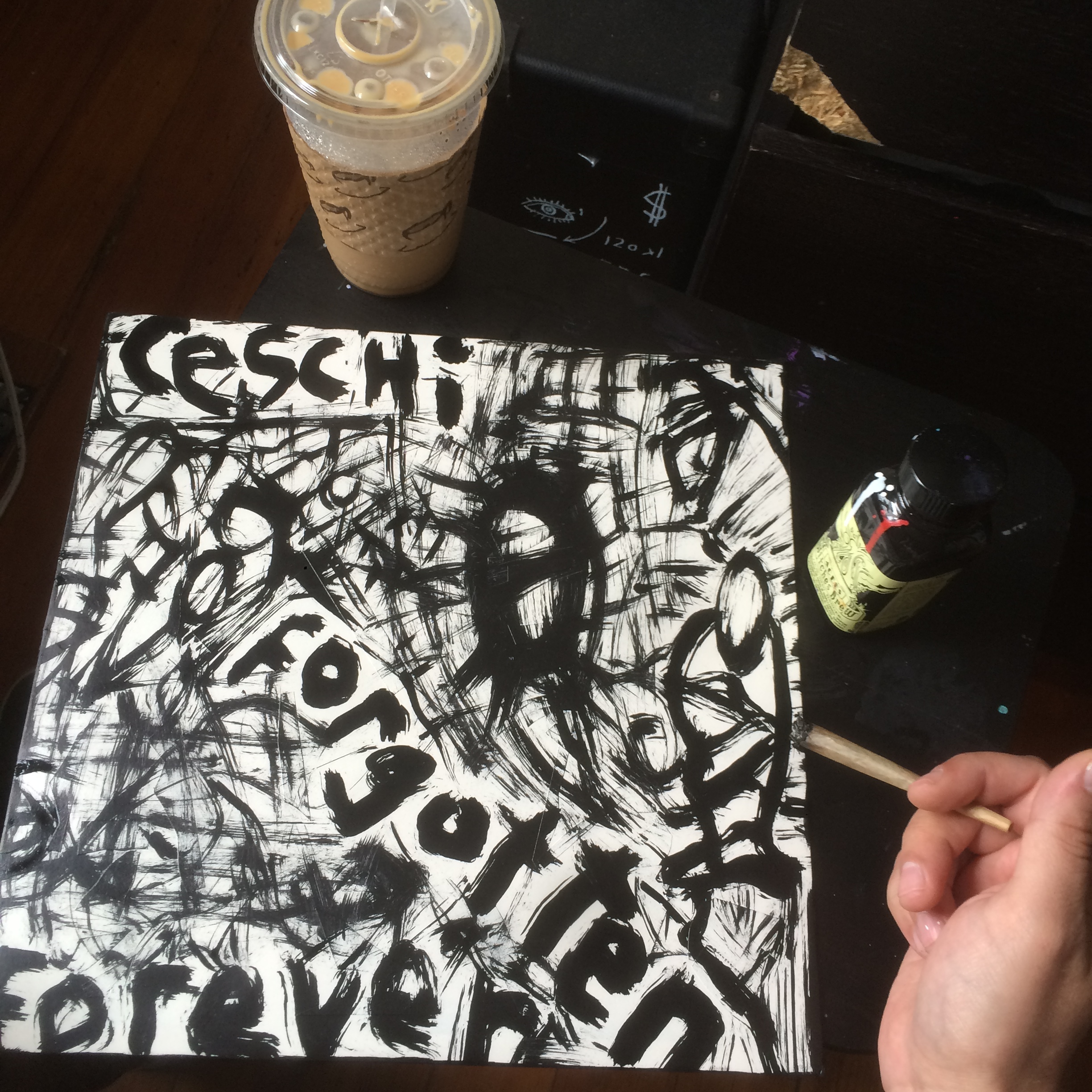 i love how the series came out and have carried over many elements developed in this process to the art i've been making since. i also have a couple copies of the vinyl for my own collecsch which still need covers made, so once its warm enough out to spraypaint on my deck i'll eventually be showing you those 2, though they won't ever be for sale...
mad love & infinite gratitude to Ceschi for including me in this project! do yrself a favor and check out his music and/or live show, he makes some timeless music & is one of the best dudes i know. also thanks to Jeremy Sullivan of UGHH for the high-quality LP cover scans. i've done a few other album covers that i'll get on here eventually, that is an area i'd like to explore much more since the intersection of art & music is where my heart lies and something i hope to further illustrate with this blog/website. much more to come!