biggups to all my fellow record fiends & music junkies! there is so much excellence coming out across all genres always, but it can be hard to keep up depending on what yr life looks like. i myself have an insatiable vinylfetish and there's been a grip of greatness hitting the shelves lately so i'm combining 5 fire-ass new releases into this here new new megapost. i aim to do a variety of posting styles here, highlighting specific artists' full catalogs, throwbacks to forgotten gems and plenty of spotlights on what's coming out now, since it's especially important to get the word out to keep momentum building for them. sometimes i'll get wordy but with new releases, it can be hard to fully speak on them since to truly grasp any album (or any type of text/art) one must devote multiple listens over a variety of moods to get a true experience. context is everything; i'd listen to plenty of albums at my old job and not dig them, but once the mindset & setup were switched when i played them at home, i would frequently hear things in a different light, liking things i had written off, or vice versa. regardless, all 5 of these new records have already caught plenty burn on my turntable and i could gladly recommend all to an open-minded listener. we've got a good span of styles here - punk, rock, hip hop, electronic from both established acts to relative newcomers. in alphabetical order, we'll run thru the new new: The Afghan Whigs, At The Drive-In, ho99o9, Sixo & Sneaks are all on deck... let's go!
Afghan Whigs: In Spades
i've been listening to the Afghan Whigs since the nineties - though their subject matters were probably over my head back then, i was rocking their breakout smash Gentlemen around when it dropped when i was 10 or 11. they always stayed with me thanks to their specific, cinematic collage of alternative, rock and soul sounds that are the perfect backdrop for genius singer/songwriter Greg Dulli to pour his heart out onto, with deep & poetic lyrics that dwell & glimmer amongst the dualities, juxtapositions and smokey grey areas of love & life. Dulli & the Whigs are profoundly emotionally authentic and effective. they had quite a string of excellent albums from the late eighties through nineties but then went dormant for 15 years, returning recently refreshed and rejuvenated with Do The Beast in 2014, keeping that inspiration flowing throughout this new offering, In Spades, out now on Sub Pop! so far my go-to tracks are "light as a feather" and "the spell" but like any Whigs album it is definitely made for front-to-back listening. the album art by Ramon Rodgrigues Melo is simply incredible, plus as always Sub Pop Records went the extra mile, with a beauteous embossed gatefold which does the art and album such justice, plus the Loser Edition which i was lucky to snag from a local record store is pressed on primo 180g 'white chocolate' vinyl. peep the slideshow above & a video below; i'll definitely revisit the rest of their catalog here one day, i have 4 of their previous LPs on wax but am hoping Sub Pop or someone will re-issue a few of the earlier hard-to-find gems before then... inshallah. cop In Spades here
At The Drive In: in•ter a•li•a
drawing parallels with the Afghan Whigs, another beloved band from the nineties returns after a long absence... post-hardcore/indie rock heroes At The Drive-In with their first album in 17 years, in•ter a•li•a! ATDI is the type of band that breeds passionate reactions from their fans, and there seems to be plenty saltiness out there from heads that are comparing this too closely to their older work. it's always a dicey proposition when you bring back a group after laying dormant for so long, especially one with such a cult following; ATDI were so great back in the day largely to the angsty, screamy fury of vocalist Cedric Bixler-Zavala and the band's raw youthful energy in general, a feeling (and scream) you really can't recreate close to 20 years later without sounding contrived or corny. i'm glad they didn't go that route; At The Drive In in 2017 finds Cedric's voice less screamo, steadier in a timbre somewhere between his ATDI, The Mars Volta & Antemasque styles, nonetheless spirited & commanding, with the band also in a less wild, more grown mode that is cleaner & wiser, benefiting from a lifetime in between of experience. like any long-time fan, with our preconceived notions inescapable, i was a little let down at first, expecting the exact old sound and energy, but with multiple listens i warmed up to it more and more; a dozen or so spins through later across different moods of the week, and i'm actually loving this album. "pendulum in a peasant dress" and "call broken arrow" are my jams so far. the collaborative musical relationship of Bixler-Zavala and guitar guru Omar Rodriguez-Lopez is one of my favorites and i get much inspiration from ATDI and Mars Volta, so i'll definitely backtrack to those records later; i have all the ATDI stuff and am only missing 2 of the TMV LPs, which are insanely expensive out-of-print, but Cedric has eluded on his Instagram to them all getting reissued eventually, so i patiently await those... i ordered my copy of the new album direct, they did all kinds of cool pressings; i got a more affordable bundle that's still super ill, 180g bone/black splatter variant, pictured above. cop yrs here
HO99O9: United States Of Horror
ho99o9 (Horror) describe their 2LP debut album United States Of Horror as a 'crossbred mutant' which is the perfect place to start on this straight up banger that gets me so amped every time i bump it... loud af. brutally bangin', speaker smashin' savagery of the highest order, the duo of theOGM & Eaddy aka Yeti Bones crush shit with their unique hybrid of thrash, punk, hardcore, hip hop/rap, trap, electronic, industrial & metal styling that feels authentic all the way through despite that massive scope. i'd been peripherally aware of these cats for a while due to musicians i'm already fans of repping them on Instagram, like N8NOFACE, Prayers & Die Antwoord to name a few- those are some co-signs that grab my attention! i had a feeling i'd be a fan, but hadn't gotten around to peeping their music yet when i stumbled on this debut record (cut loud at 45rpm on freshhh yellow vinyl) the day it came out & immediately copped it on the strength, and was not let down in any way. peep the slideshow for the crazy dope album art; everyone working the record store i copped it from, Newbury Comics, were not familiar with them but were fascinated with it, asking me what their deal was. these cats are likely to blow up pretty fiercely, their live show looks insane, and they are playing at Sonia in Cambridge on June 3; i've copped my tickets and will be raging hard, haha hopefully i'll grab some great footage for the site unless its too much of a riot scene to do so! this music stands on its own but since they're still relatively unknown i'll say its for fans of Crimekillz, Death Grips, Mykki Blanco, Odd Future or Public Enemy as much as say Black Flag, Burn, Rage Against The Machine, Crass or Bad Brains. i'm feeling the whole album but standouts so far are "Knuckle Up", "Dekay" (feat. Gnar of Kate Mo$$), the title track and "War Is Hell" which you can view the video of below. super psyched for where ho99o9 goes with it, this is quite a dynamic bang of a beginning! Cop it here
Sixo: The Odds Of Free Will & more!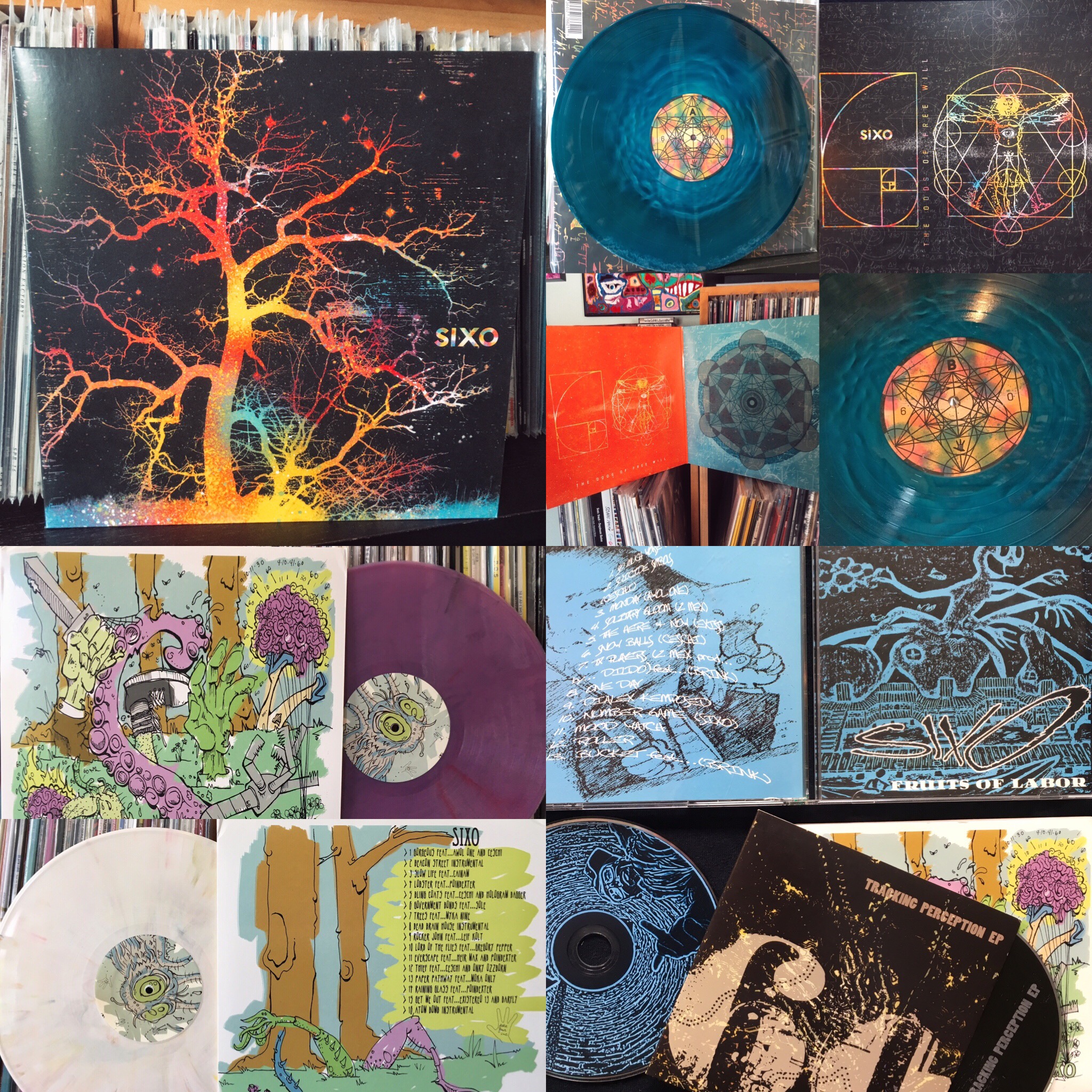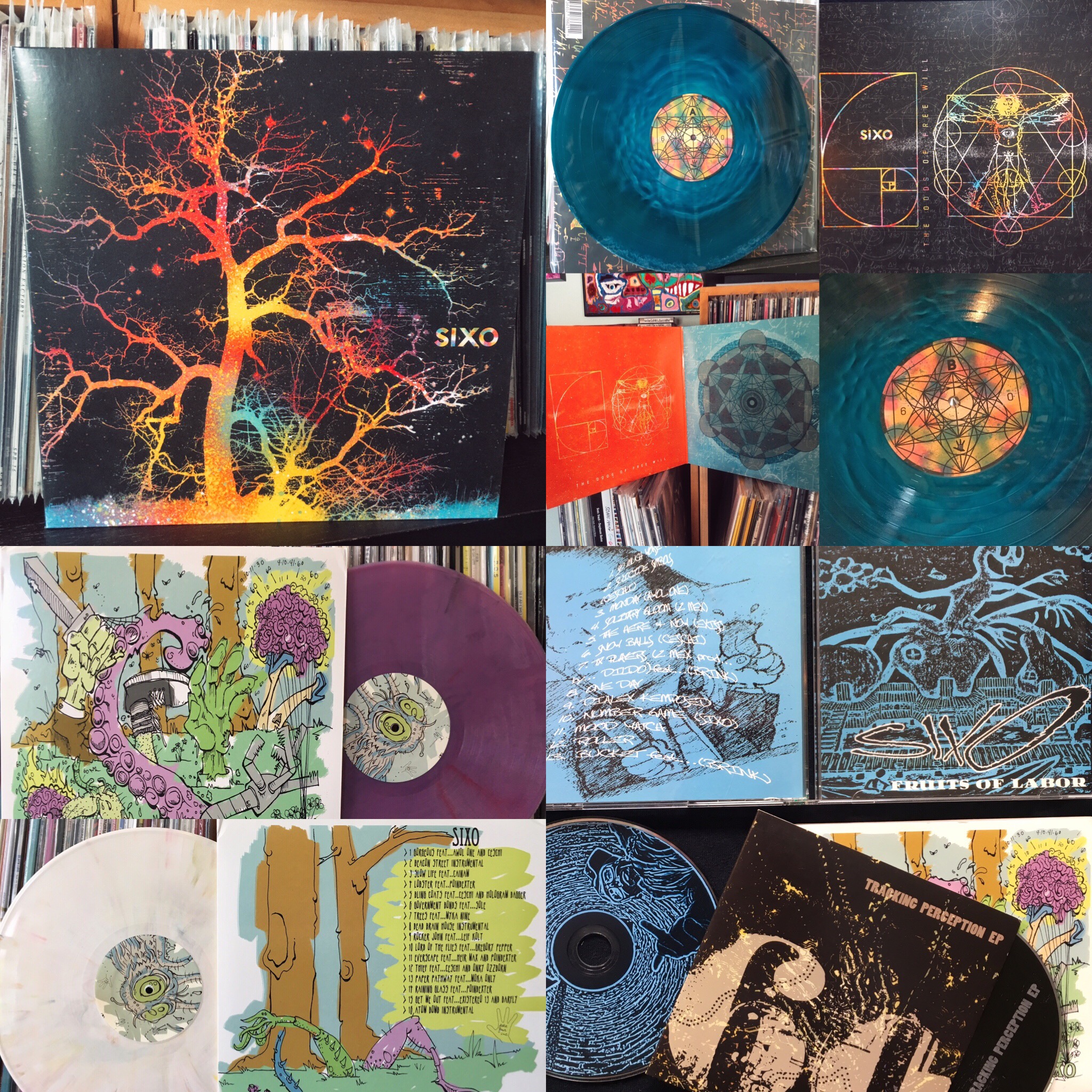 the new Sixo record out now on Fake Four Inc., The Odds of Free Will, is another wonderful work of audible art from the uber-talented underground hip hop producer/beatsmith that you might not be familiar with, so we're also going to briefly backtrack to his previous releases also. a while back in hip hop, the producer started becoming almost more important than the emcee to a lot of people, as evidenced in much of the mainstream crap out there with a beat so bumping that the vocals atop it are almost arbitrary. that trickled down to the underground as well, and you see a lot of 'producer albums' flooding the market which i can only describe using an unrelated producers words, Bronze Nazareth: "it's just a compilation album, full of your wack songs...". there's scores of these albums that are just a bunch of beats thrown together usually with vocal features from notable emcees used politically to draw in their fan-bases, but there is little art or vision to the bulk of them, just a jumble of tracks. the potential for a producer-album can be so great however, and Fake Four happens to have two of the best cats doing these - prolific Canadian powerhouse Factor, who we'll get to eventually on here, and Scotty Sixo, a former motocross racer who happens to craft some crucial indie hip hop which always draws me in for repeated listening. while his new offering, The Odds Of Free Will features underground hip hop/ indie-art-rap scene royalty Myka 9, Awol One, Ceschi, Onry Ozzborn, Open Mike Eagle, Milo, Josh Martinez & Gregory Pepper, which might seem like too many contributors for cohesion, yet Sixo remains firmly in control as conductor to those varied talents, utilizing them perfectly as puzzle pieces to the bigger picture & aesthetic he has created. inspired by philosophical notions (note the Fibonacci Sequence album art), balanced perfectly with instrumental and vocal tracks so it flows just right front-to-back, each track drips with a rich aesthetic & atmosphere that submerges the listener into Sixo's universe. featuring lush live instrumentation and sophisticated soundscapes with elements of psych, folk and electronic styles, it's nonetheless hip hop at its core. peep the slideshow above; Fake Four did such a beaut job with the vinyl, on a crazy ill teal color wax that i had to snap a few pictures of in different lighting in a futile attempt to capture how vibrant it looks in real life. also included is his previous LP, a classic to me called Free Floating Rationales which is not to be missed (and was pressed on mystery color variants!) with hella dope album art by Awol, and some of his earlier CDs including Fruits of Labor which i grabbed from the man himself years back on The Outsiders tour when that whole crew came through the UGHH store; it features killer cuts by Ceschi, Existereo, 2Mex and Wolrus. get familiar with this underrated producer & support the record here!
Sneaks: It's A Myth and Gymnastics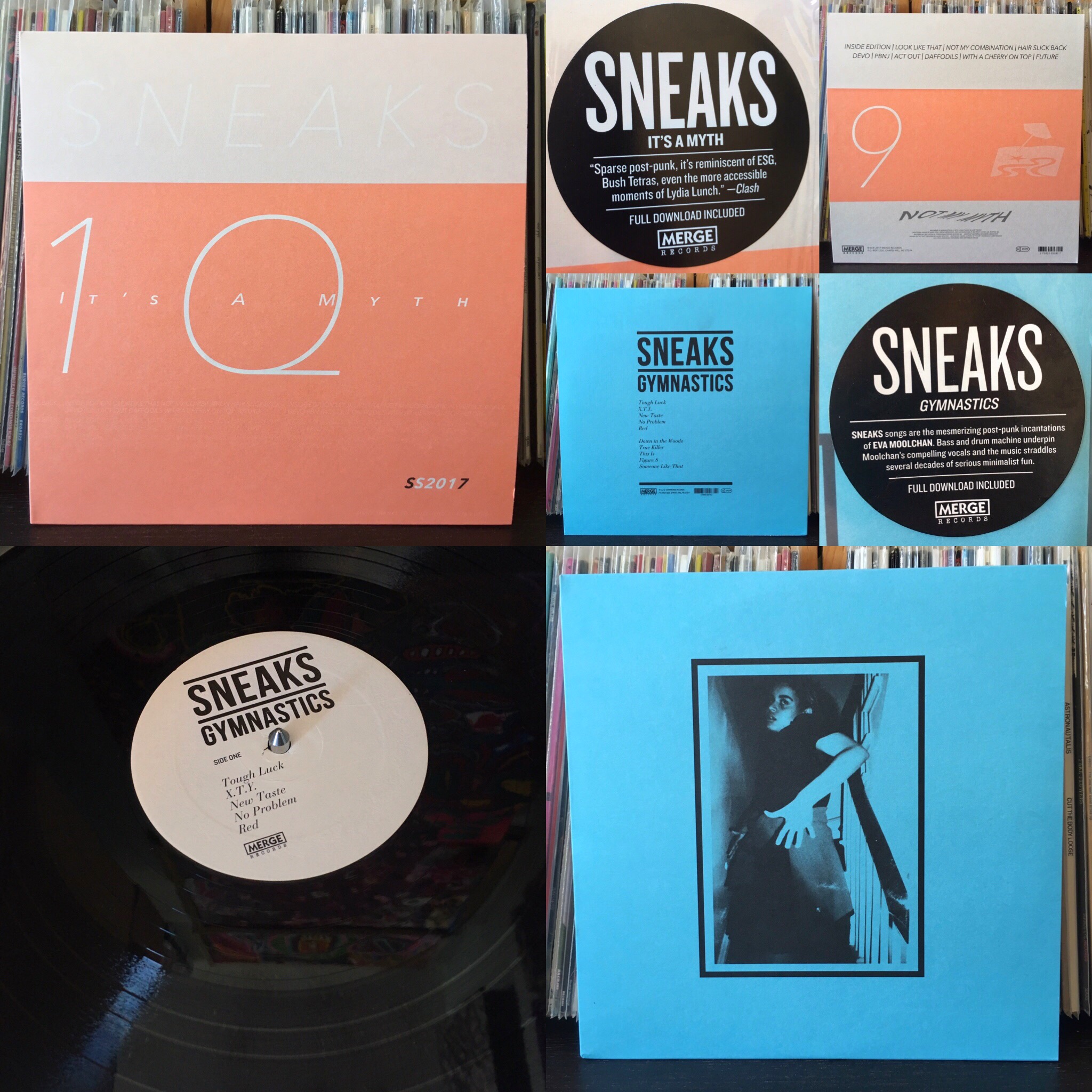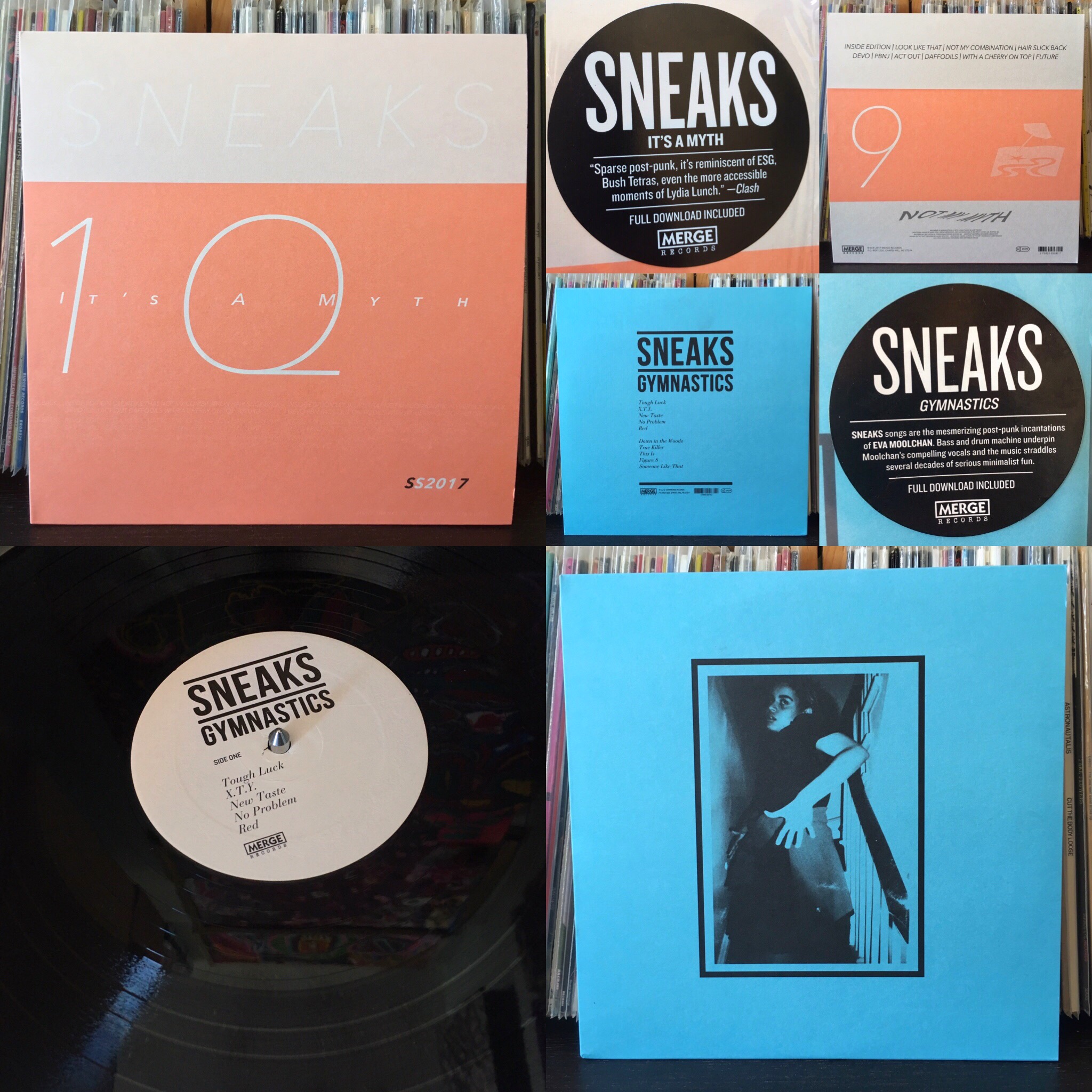 and last but certainly not least, we have SNEAKS! while i was already a fan of the previously listed groups for years, (besides ho9909, but was aware of them for a while) i know absolutely nothing about Sneaks, the alias of Eva Moolchan, who is killing it right now with stripped down minimal wave/ post punk/ electro DIY dopeness. as a vinyl fiend with limited funds, i always have a humongous list of releases i'm seeking out at the record store, so i very rarely take a risk on a random record i know nothing about. i'll do blind-buys here and there, but it's typically informed by associations which lessen the risk of copping a dud - a record label i trust to come with quality or a familiar producer name listed on the back, for example. there is something to be said for the joy of taking a risk on something you know nothing about, however, just resonating with the album's cover art, aesthetic, track listing, etc. i was coming home a little tipsy from brunch a few weekends back, and on my walk home i always pass one of my favorite record stores, Deep Thoughts in Jamaica Plain, and in my inebriated state i was immediately struck by all of those factors when my eyes locked onto the debut LP by Sneaks, Gymnastics, from 2015 originally but reissued by Merge Records the next year. as someone who has worked in the indie music industry for years, dealing much with album descriptions (1-sheets), i've frequently been turned off by much of what i read, which all too often are pretentious, lofty wastes of time which tell you nothing about what the LP actually sounds like; so it was super refreshing to read the concise sticker on Gymnastics which told me all i needed: "Sneaks songs are the mesmerizing post-punk incantations of Eva Moolchan. Bass and drum machine underpin Moolchan's compelling vocals and the music straddles several decades of serious minimalist fun." Fucking sold! took the record home, fell in love in the first minute; hypnotizing, catchy, addictive awesomeness from a woman, her bass & her drum machine; though it's short (but cut at 45rpm!) its pretty much a perfect album to me. i can rock it literally 10x through without getting remotely sick of it! a few days later, i happened to check Bandcamp and was pleasantly surprised to see that they gave Sneaks' new album, It's A Myth, a major shining endorsement prominently displayed on their front page- i had no idea she had hype like that, but was elated to see so! again, here's the promo sticker description since it's so on point: "Sparse post-punk, it's reminiscent of ESG, Bush Tetras, even the more accessible moments of Lydia Lunch". well said, Merge, well said. It's A Myth expands the sonic palette a bit, adding more synths; i really dig this album and play it a lot, however i won't lie, Gymnastics is my preferred of the two, not to be that close-minded 'i liked yr first album better' type of fan, i just can't get over its vocals/bass/beats aesthetic, though she keeps that style alive plenty on the new joint as well. as with any minimal wave type stuff, the songs are short, so this time around instead of cutting it at 45rpm, Merge pressed the full album at 33rpm on both sides, which i've never seen before - pretty cool because you can alternate sides to keep the vinyl in better condition. with these 2 releases, Sneaks has quickly jumped high up on my list of new, exciting, contemporary talent, i will eagerly await what's next from her! i would recommend starting with Gymnastics before getting into It's a Myth, but they're both very dope releases totally worth copping and playing incessantly. i couldn't find a video for the new album, so one from Gymnastics is included instead. support Sneaks here!